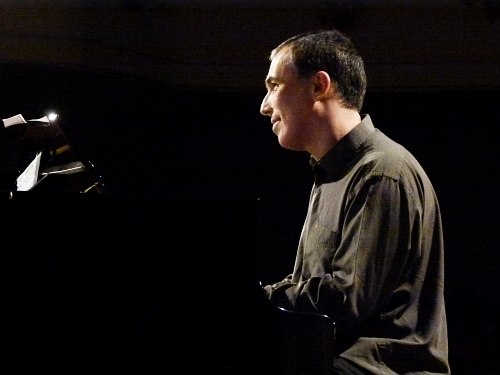 A while back, one of my past blogpost subjects, Misha Tsiganov, sent me an English language translation of an article on him, which originally appeared in a Russian magazine, Jazz.Ru, in 2007. Finally, here it is for everybody else to read as well:
It all began with a white envelope bearing Berklee College of Music logo in the left upper corner I found in my mailbox one beautiful morning.
In Leningrad in 1990, my friends offered to deliver a tape with my playing the piano to Berklee in Boston. At the time this was totally unexpected since I had no material I considered worthy of being sent. Initially, I ignored the offer, but after being pressured by friends, I found a recording that my brother Alexei, who plays the vibraphone, and I had recently made and gave them the tape without any particular hope for success. I was lucky. Gary Burton, the chairman of the Jazz Department who was almost impossible to find at his office since he was always on tour, happened to be in his room, took the tape, and promised to listen to it. Later he said that we were very fortunate because if he had not been in his office, the tape would have ended up in the archives and would probably have been lost.
So on that morning I went to Mussorgsky College of Music as usual, checking my mailbox on the way. There was an envelope from Berklee. By the way, I still have this letter in safe keeping. In the letter Gary Burton wrote that he liked our playing a lot, that we showed much promise, and that we must continue our education at Berklee. He also promised to help us get a scholarship. As I read the letter, I couldn't believe my eyes. After that, correspondence came from Berklee about the scholarship and with information that the school would take care of the travel papers and other matters pertaining to our coming here.
It was roughly a year later when my brother and I arrived in America, the land of jazz. The first man I saw in the crowd waiting for arrivals at the New York airport was a great Russian saxophonist Igor Butman full of energy and optimism. Seeing him instilled hope. Since we were whisked off so fast in a car to Boston and to our new life, we were unable to have even a fleeting look at New York.
We arrived to Boston the same day. Gary Burton did help us. Even though nobody got a full scholarship that year, both Alexei and I were offered $4,000 a piece. Since the tuition for a semester at that time was $5,000, each of us was $1,000 short, and for us this was an unattainable amount. Clearly, we had misunderstood something in our correspondence with Berklee, for we had been led to believe that we would be able to pay the lacking funds by working at the college. However, this wasn't the case, so we had to postpone studying at Berklee indefinitely.
The three of us (my brother and I had been joined by a student from Latvia) settled in a small room in the attic of a dentist's home. Since the dentist who had studied Russian needed practice with the language, he periodically came to us to talk, and communicating with him in our language was how we paid our rent.
Hard times began. Since we had no work permit, we had to play in the subway stations and on the street. When one puts his instruments on a street for the first time, it is not a good feeling. We had to "break" ourselves. It's hard to to suddenly feel like a nobody and have to play and collect money in a hat after having given serious concerts in big concert halls in St. Petersburg, after receiving applause and signing autographs, and after having our posters displayed all over town. However, we knew that if we made no money, we wouldn't eat.
In America, almost everyone starts at ground zero no matter who he was at home, and we surely started there. Every day the money was growing shorter. Once we went to a supermarket and filled a big shopping cart with pasta. When we started to pay, the cashier looked at us as if we were from another planet. She had never seen anybody buying so much pasta. When we saw how perplexed she was, we told her that today the store had a good sale on pasta and that it was cheaper than ever. The cashier said that today they did in fact have an unprecedented sale on pasta. Hearing that, we went back and bought all the pasta we could find in the supermarket. In our room the boxes of pasta lined one of the walls from floor to ceiling. Later, as we moved from apartment to apartment, instead of bringing furniture with us, we brought pasta.
In Boston I often associated with a great Russian pianist Eugene Maslov. He had already been in America three years, and many people knew him. I often went to his concerts where he introduced me to the best musicians in Boston. I began making some contacts and gave my first concerts at jazz clubs. For the first time I understood what capitalism is. At the end of the 80s when I performed at festivals and in clubs in Russia, my salary never depended on the number of listeners. Here, though, if people didn't come, I made nothing. Of course, this was not always true, but in my case it was. I remember making a giant pile of ads and pasting them wherever possible all over town. This scheme often worked, for people came to hear me play.
The world is not without good people, so we eventually found money for the rest of our tuition for Berklee. I loved studying, but getting experience performing was the most valuable part of being at Berklee.
In 1993, thanks to drummer Oleg Butman for his recommendation, I was offered a steady job in New York City. I had always relished the idea of moving there, but until then, I had not had the opportunity. My life in this incredible city started with a great trumpeter Alex Sipiagin, who met me at the bus station in the middle of Manhattan on Forty-Second Street. As we exited the station, I looked around and asked where Manhattan was, still not realizing that I was already there. We walked all of Manhattan on foot and strolled in the Village where Sasha showed me some of the famous jazz clubs, such as "Blue Note," "Village Vanguard," and "Sweet Basil."
In the evening Alex and bassist Boris Kozlov took me to a Russian restaurant for an audition. I was hired for the job and promised a decent salary. I fully realized where I'd come and what music I'd have to play. Even though the music was far from jazz, it was the price I'd have to pay to move to New York. I had to learn all restaurant repertoire. Later, I often moved from one restaurant to another. For half a year I accompanied famous Russian singer Willie Tokarev. Overall, I worked in the Russian restaurants for eight years. Occasionally, I had stimulating meetings, for Russian restaurants often used talented American singers who worked with stars like Michael Jackson, Stevie Wonder, and Tower of Power. To accompany them was fun. Many other Russian musicians, such as Igor Butman, Sasha Sipiagin, Eugene Maslov, Renat Shaimuhametov, Viacheslav Nazarov, have also gone through working at Russian restaurants. Of course, all of us wanted to enter "Big Jazz," but it isn't simple because in the meantime, rent has to be paid, and groceries have to be bought.
While working at the Russian restaurants, I constantly went to jam sessions and spent nights at the jazz clubs. Soon I began to getting jazz gigs and making some useful acquaintances.
In 1998 I was invited to Norman Hedman's Tropique, a very engaging project. From there I began to give concerts at the jazz clubs, travel to big jazz festivals, and be interviewed on radio and television. In 2000 we recorded an album on Palmetto Records that took sixth place on the USA music charts.
In 2003 on Norman's recommendation, saxophonist Chico Freeman invited me to play with his band. An interesting note is that in 1990 in Moscow when the biggest Russian jazz festival featuring Freddie Hubbard, Branford Marsalis, Benny Golson, and others took place, Norman Hedman played percussion in Chico Freeman's group. Naturally, I was in Moscow for all of these days. As I sat in the concert hall, I, of course, couldn't even imagine that I would eventually join Norman Hedman's group and a little later Chico Freeman's group. During the two years I worked with Chico, we recorded an album on Arabesque Records, played in many New York clubs, and traveled to Europe.
Working on the record "Nine Guys From Out Of Town" with the admirable musicians Michael and Randy Brecker was one of the most absorbing events of my recent years. The record contains three of my compositions, and the Brecker brothers play on two of them. Dave Valentine, a famous flute player, also participated. I was especially amazed by Michael Brecker's scrupulousness and need for perfection. After playing solo on one of my compositions, he asked for it to be saved because he wanted to record himself again using the same accompaniment. Doing so is not difficult with modern technology. Then he had his performance recorded for the third, fourth, and fifth times. In the end, none of his solos satisfied him completely, so he eventually suggested that we choose the version we liked most. We couldn't understand him because to us all of his solos sounded perfect. Michael, though, gave me a lesson on how demanding one should be toward one's work.
Following Chico Freeman's recommendation, Joe Chambers invited me to his band. Joe is a legendary drummer who has recorded a huge number of records with such outstanding musicians as Chick Corea, Wayne Shorter, Freddie Hubbard, McCoy Tyner, Joe Henderson, Bobby Hutcherson, Charles Mingus, Chet Baker, Hubert Laws, and Tommy Flanagan, and others. Since I had listened to and studied Chick Corea's "Tones for Joan's Bones" and Wayne Shorter's "Adam's Apple" with Joe Chambers on the drums long before coming to the USA, Joe's offer was unbelievable.
In my many years spent in the USA, I understood that in most cases only recommendations will help a musician get anywhere. Somebody who knows you well mentions you to somebody else. Then this somebody calls you and offers you something, and so it goes. Gradually, your connections grow, more "necessary" people know about you, and your chances for career advancement increase.
Since 2004 I've been working with Joe Chambers. During this time we have played in many New York clubs and also recorded the album "The Outlaws" on Savant Records. I think that our trip to Greece was one of the most unforgettable events. While there, we played in Athens at the Half Note Jazz Club seven days in a row with Joe Chambers on the drums, Gary Bartz on saxophone, Dwayne Burno on bass, and me on the piano. In these seven days I came to understand more about jazz than I had in the previous ten years, for a musician gains priceless performing experience only by going onstage and playing every day with other musicians who are far superior to him rather than by just meeting them accidentally at jam sessions once a year. In fact, I know many phenomenally gifted musicians whose lives have prevented them from gaining sufficient performance experience. I also know talented but not spectacularly gifted musicians whose fate has given them the chance to share the stage constantly with great jazz masters. As a result, in time the latter musicians greatly surpass the first.
I think that constant practice with more experienced musicians is most important in jazz. When you find yourself in an extreme situation where you have no right to play below the level of the musicians sharing the stage expect from you, you suddenly discover new resources you possibly didn't even suspect you had. It seems as if you catch a string that pulls out "hidden" reserves. If you were in this situation just once, it's possible that you caught this string but most likely didn't understand how you did it, but if you find yourself doing this every day, you begin to meld into the state of mind when this indescribably complex sensation of you and music as one takes place. When you can reach that state at will, you can consider yourself a real master from that moment on.
In St. Petersburg I acquired invaluable experience while constantly jamming with a famous Russian multi-instrumentalist David Goloschokin and working in Valery Zuikov Band. I will never forget how I entered the stage of the Jazz Philarmonic Hall for the umpteenth time to play with David's group. When my time to solo came, I started to play. David turned to me and said or rather ordered, "Swing it; swing it!"

I understood that if I didn't swing it, I'd be in trouble. When saxophonist Valery Zuikov invited me to play with his band, I had an opportunity to play with the best St. Petersburg soloists, such as trumpeters Alexander Berenson and Boris Romanov, guitarist Alexander Starostenko, and others. I will always remember Goloschokin and Zuikov with a special gratitude, for what they gave me is priceless.
I've been living in New York City for many years now, and I really love this city. I love it because Charlie Parker, Dizzy Gillespie, and Thelonious Monk have created their amazing art on its streets. I love New York for its cutthroat competition which won't allow me to relax and which constantly pushes me to grow. New York is unquestionably the world's jazz capital. Many musicians who achieved high results in jazz come here from all over the world to test their skills. For this reason many brilliant jazz musicians live in New York, competing with one another. There isn't enough work for everybody, and a kind of "arms race" takes place. In this "race" musicians "arm" themselves with knowledge, technology, and experience to achieve a higher level of playing.
Quite recently, I visited Russia. In St. Petersburg my group performed at the Theater of Estrada at a jazz festival organized by Kvadrat Jazz Club. We played as a quartet: Andrei Ryabov on the guitar; Dmitry Kolesnik on the bass; Oleg Butman on the drums; and I on the piano. After that we played two concerts in Moscow in Le Club. There we were joined by Craig Handy, a great New York saxophonist. I had the best of impressions regarding the trip and would like to thank everyone for such a warm reception. I was very glad to see Vladimir Feyertag and Nathan Leytes. It felt as if I had dipped for a moment into the good old times. I have to admit that I was pleasantly surprised by the skill of the young Russian jazz musicians whose level of playing has grown considerably in the past 15-20 years. In fact, some St. Petersburg and Moscow guys play on a solid New York level. I believe that Russian musicians will always be able to pave their way to jazz heights and take a deserving place in the world jazz scene.
In
case any of you haven't yet read Misha Tsiganov's original blogpost, you can find it here:

http://www.jazzsaints.blogspot.com/2010/08/russian-born-misha-tsiganov-is-one-of.htm

l.